Pints, Flights, Growlers, Cans
Gold Nugget Jct. Golden Ale
$2/$3/$6
3.5%
This golden ale is named after the 1970s Osage Beach amusement park, Gold Nugget Junction. This old-time amusement park featured an authentic 1890s country music show, can-can dancers, famous western gun fights and much, much more!
Our Gold Nugget Jct. has a very light, yet crisp flavor to quench your thirst.
Little Niangua Pale Ale
$2/$3/$6
5.0%
Not really into bitter beer, but curious about IPAs? Try our Little Niangua, not as "hoppy" as its older brother, Big Niangua IPA. This pale ale is brewed with Cascade hops and offers a nice, smooth flavor. just like the float trips you can take on the river.
Grand Glaize Haze IPA
$2/$3/$7
6.1%
Known by either hazy, New England style, or juicy IPA, this style brings out the aroma of hops instead of bitterness. With large amounts of Citra, Mosaic, and Amarillo hops at the end of the
boil and dry hopping in the fermenter, you'll experience a juicy mouthful of tropical flavors with every sip. Grand Glaize Haze, named after the Grandglaize tributary, is about 15 miles long and enters Lake of the Ozarks at the 19 mm underneath the Grand Glaize bridge. It was built as a Warren truss or "upside down bridge" for better views of the lake.
Bagnell Dam, named after the town Bagnell, was completed in 1931 as a hydroelectric power plant to service power to St. Louis. At the time of construction, it was the largest man-made lake employing thousands to construct. This was a huge boost to the economy during the Great Depression. The Dam Stout has chocolate, coffee, and milk tones that make it a very smooth, Stout to drink.
Damsel (in distress) Blonde
$2/$3/$6
4.5%
AKA Double D Blonde (I mean, who doesn't like a DD blonde?). She's sweet and light and surprisingly not very bitter!
This ale is brewed right in the original town named Damsel. Although the origin of the name is uncertain, Damsel established a post office in 1885 and remained in operation until 1920.
Enjoy this refreshing beer today!
6.0%
Every little bro needs a stronger older bro to look up to. The Big Niangua is just that at 6%, the perfect big brother.
The Big Niangua River runs about 13 miles from Tunnel Dam to Ha Ha Tonka State Park.
5.8%
The Osage River is 278 miles long and comprised of two major Missouri Lakes: Harry S. Truman Lake and Lake of the Ozarks. The river itself was named after the Indigenous tribe, Osage Nation, meaning people of midwaters. Our Osage River red is a malty beer brewed with roasted crystal malts to give it a full body with toasted toffee flavors.
Peanut butter – good! Chocolate – great! Beer – wonderful! Peanut butter chocolate beer – mind-blowing! We combined all of these fantastic items together to create a delicious dessert beer, but it's smooth enough to enjoy more than one. Public Beach 2 is located just down the road at the Missouri state park. This is a great spot to relax on the beach, go on hiking trails, or BBQ with the family.
19th W'Hole Wheat
$2/$3/$6
5.9%
With over ten golf courses in the Lake area, there is plenty of opportunity to play 18 holes, but only in one place, you can have a 19th W'Hole Wheat. Whether you had a great day or a bad day on the course, you can always count on our Wheat to be nice and refreshing at 5.9% brewed with Valencia Sweet orange peel to give a great citrus flavor.
8.0%
Are you a hophead in search of bitterness? With double the hops and a large grain bill, this double has the bitterness that will explode your tastebuds but with a smooth silky touch. Lake of the Ozarks gets its nickname Dragon Lake from its serpentine shape. With 1,150 miles of shoreline, it has more shoreline than the California coast.
6.9%
The town Bagnell was named after William Bagnell in 1883. He owned the land and envisioned great things for the railroad making this a hub for transporting railroad ties from St. Louis to areas around Mid-Missouri.  Bagnell Brown Ale is a deep amber color, very malty, and has a caramel, nutty finish.
Ha Ha Tonka Seltzers
$2/$3/$6
5%
Meaning Laughing Waters, this state park is a favorite for travelers and locals alike. Featuring trails, sinkholes, caves, a natural bridge, sheer bluffs, and MO's 12th-largest spring. Let's not forget the beautiful view from the Castle ruins overlooking the Lake. This popular fizzy drink offers crisp, clean flavors, a perfect alternative to beer with great taste!
Current flavor: Raspberry
Homemade Sodas
Since we are a family run business and family friendly too, it was only natural to have Benjamin, Adaliene and Jackson involved. Parents, while enjoying a cold beverage let your kiddos enjoy one too!
Benjamin Root Beer (Non-Alcoholic)
$2
Even at a young age, Benjamin has shown interest in the family business. He loves being at the brewery and helping Daddy brew his root beer.
Adaliene Ale Cream Soda (Non-Alcoholic)
$2
We couldn't forget about future brewmaster Adaliene. Just like our bubbly Adaliene, this fizzy cream soda is sweet in character and will bring a smile to your face!
Jackson Orange Soda (Non-Alcoholic)
$2
Our newest addition to the brews and the family Jackson was born in March of 2022 and has already done his fair share of helping at the brewery, including hosting Trivia nights with Mom! We hope you enjoy this delicious orange soda as much as we do!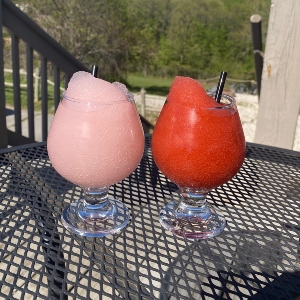 Not quite ready for a beer? That's ok! We've got you covered with our slushees and House Wine options. Ask your Beertender for rotating flavors.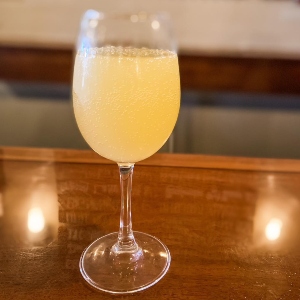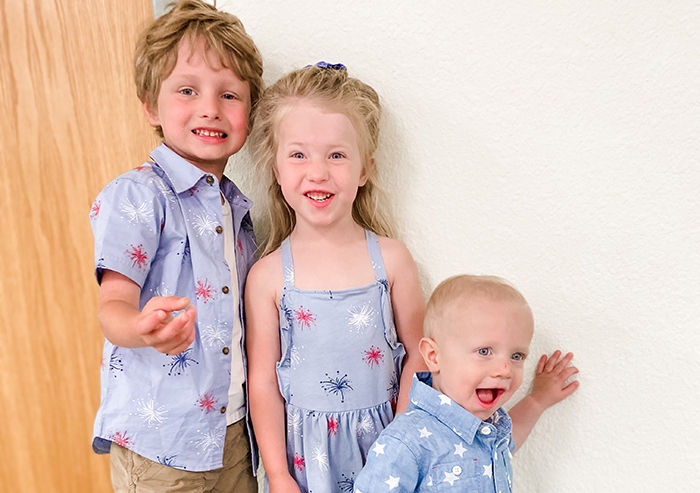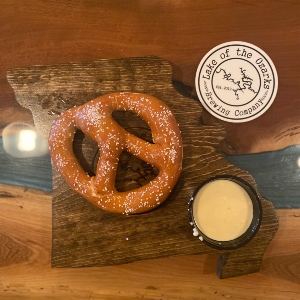 Homemade Beer Cheese & Soft Pretzel
$8
Our signature snack is made with our Damsel Blonde Ale and extra sharp cheddar cheese. This creamy dip tastes amazing with our soft pretzel topped with salt!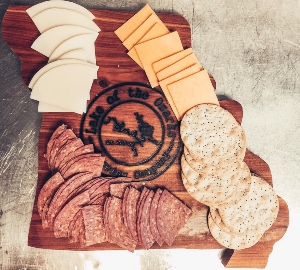 This platter of cheddar and provolone cheese along with salami and crackers pairs great with our Flights.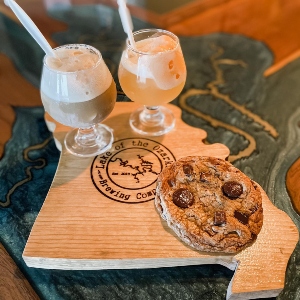 Indulge in this yummy chocolate chunk cookie, served warm, just how you like it! (Add Ice Cream +$2)
Benjamin's Root Beer Float
$4
Have a sweet tooth and looking to satisfy it? Try this amazing root beer float made with our homemade soda. If you're feeling daring, try Pop Pop's Root Beer with one of our stouts! (Stout +$2)
Adaliene Creamsicle Float
$4
Our homemade cream soda is paired with delicious orange sherbet. This fizzy dessert is a tribute to our favorite Mom Mom!
Our homemade orange soda is paired with delicious orange sherbet. 
Our delicious homemade red sauce topped with Mozzarella and Provel cheese.
Build Your Own
$13+$2 per topping
Pepperoni, Italian Sausage, Beef, Salami, Chicken, Bacon, Green Peppers, Onion, Mushroom, Black Olives, Jalapenos,
*Homemade Beer Cheese +$4
Meat Lovers, Veggie, Supreme, Chicken & Bacon (Buffalo or BBQ)